Over 43,000 PET® carts have been built by hundreds of volunteers at 24 Affiliate workshops and distributed in 100 countries with the help of 46 distribution partners.
PET® International would like to say Thank You to the many who have given their time and resources to enable the Gift of Mobility to reach those in need.
---
---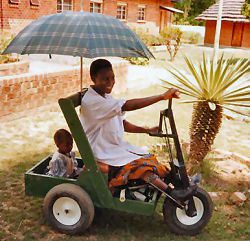 Considerations: There are in excess of 20 million people in developing countries unable to walk.
Our mission: The PET® Mobility Project seeks to reflect the love of God by bringing the gift of mobility and dignity to those in developing countries who are unable to walk.
PET Mobility Project main objectives: promotion of PET vehicles, coordination of PET production sites, and assistance in the dissemination of vehicles to international agencies/sponsors.
Our Vision: A world where all God's people have Mobility, Acceptability, and Accessibility.
Where there's a WHEEL there's a way:
Lea este sitio en Español por Google.