Lea este sitio en Español por Google.
44,000 PETs have been distributed in 100 countries.
News items (via twitter):
---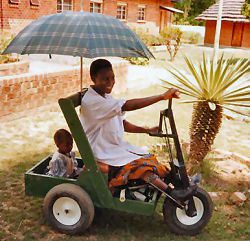 Our mission: PET International seeks to reflect the love of God by bringing the gift of mobility and dignity to those in developing countries who are unable to walk.
PET International main objectives: promotion of PET vehicles, coordination of PET production sites, and assistance in the dissemination of vehicles to international agencies/sponsors.
Our Vision: A world where all God's people have Mobility, Acceptability, and Accessibility.
Considerations: There are in excess of 20 million people in developing countries unable to walk. All Affiliates, parts-makers, financial supporters, distribution partners and others engaged in the ministry of the PET Project are asked to consider, prayerfully and earnestly, the extent to which they can contribute to the realization of the international Vision.
Excerpt from August 2011 report from Honduras distribution: "…We are excited. There are people in this world like us who want to see and make a difference in people's lives all around the world. There is a phrase here in Honduras that goes 'vale la pena hacerlo'. It means 'it is worth doing it'. We encourage you to pass forward doing the work you do. You are making an impact in Honduras, not only in the lives of Senora Idaliar and her family, but in our community. As we pass in the streets, we see people with other PETs including one man who is now out helping sell roasted corn near our house. They all have one thing in common, they all are wearing the biggest smiles! Thank you for your hard work! In His Service, The Munoz Family"
Where there's a WHEEL there's a way:
Misericordia en movimiento: